D2 Tool Steel Description
D2 steel is a high wear resistance micro deformation cold work die steel, which belongs to the wind hard tool steel. The carbon content of the steel is as high as 1.5%, and the chromium content is as high as 11.5%.
The hardness of the steel can reach 60HRC after heat treatment, but the ductility, toughness and rust resistance are relatively weak, and the steel surface is difficult to be polished by mirror.
With the development of high precision, high efficiency and many kinds of cold stamping products, die steels are required to have better wear resistance and toughness.
Compared with Cr12MoV steel, the addition of Mo and V in the chemical composition of the steel changes the casting structure of the steel and improves the morphology of leistenite.
The strength, toughness and wear resistance of the steel are better than that of Cr12MoV steel, and the service life of the die is prolonged.
Because the yield point and plastic deformation resistance of the steel are higher than that of Cr12MoV steel, the forging property and thermoplastic formability of the steel are slightly worse than that of Cr12MoV steel.
D2 Steel Introduction
Cold-work tool steels include the high-carbon, high-chromium steels or group D steels, D2 is the most popular one,these steels all contain 1.5% to 2.35% of carbon and 12% of chromium.
D2 steel is an air hardening, high-carbon, high-chromium tool steel. It has high wear and abrasion resistant properties. It is heat treatable and will offer a hardness in the range 55-62 HRC, and is machinable in the annealed condition. D2 steel shows little distortion on correct hardening.
D2 steel high chromium content gives it mild corrosion resisting properties in the hardened condition.
If customer need better machinability, we recommend A2, because A2 has a chromium content of 5% and is more readily machinable.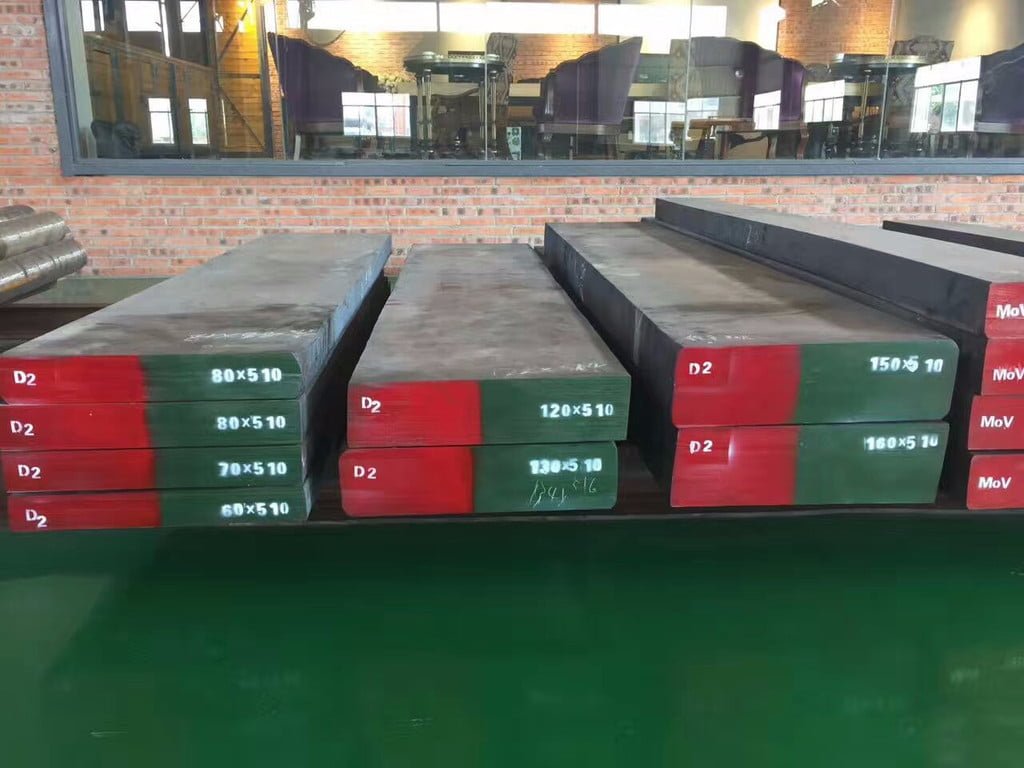 D2 Steel Application
Used for long run tooling applications, where wear resistance is important, such as blanking or forming dies, punches, forming rolls, knives, slitters, shear blades, tools, scrap choppers, tyre shredders and so on.
D2 Steel Equivalent
| | | | | |
| --- | --- | --- | --- | --- |
| Country | China | Japan | Germany | USA |
| Standard | GB/T 1299 | JIS G4404 | EN ISO 4957 | ASTM A681 |
| Grade | Cr12Mo1V1 | SKD11 | 1.2379 | D2 |
| | | | | | | | | |
| --- | --- | --- | --- | --- | --- | --- | --- | --- |
| Grade | C | Si | Mn | P | S | Cr | Mo | V |
| Cr12Mo1V1 | | | | | | | | |
| SKD11 | 1.4-1.6 | 0.4 | 0.6 | 0.03 | 0.03 | 11-13 | 0.8-1.2 | 0.2-0.5 |
| 1.2379 | 1.45-1.6 | 0.15-0.6 | 0.2-0.6 | 0.03 | 0.03 | 11-13 | 0.7-1.0 | 0.7-1.0 |
| D2 | 1.4-1.6 | 0.1-0.6 | 0.1-0.6 | 0.03 | 0.03 | 11-13 | 0.7-1.2 | 0.5-1.1 |
D2 Steel Mechanical Properties
The mechanical properties mainly include tensile strength, yield strength, elongation, area or reduction, hardness, impact value, non-metalic inclusion etc. Different heat treatment, the mechanical properties will be different, such as normalized, tempered, QT. If you want to know the properties, kindly contact the salesman.
ASTM D2 Steel Overviews
Size
Round
Dia 6-1200mm
Plate/Flat/Block
Thickness
6mm-500mm
Width
20mm-1000mm
Process
EAF+LF+VD+Forged+Heat treatment(optional)
Heat teatment
Normalized ; Annealed ; Quenched ; Tempered
Surface condition
Black; Peeled; Polished; Machined; Grinded; Turned; Milled
Delivery condition
Forged; Hot rolled; Cold drawn
Test
Tensile strength, Yield strength, elongation, area of reduction, impact value, hardness, grain size, ultrasonic test, US inspection, magnetic particle testing, etc.
Payment terms
T/T;L/C;/Money gram/ Paypal
Trade terms
FOB; CIF; C&F; etc..
Packing
Standard Packages, or as Customers Request
Delivery time
30-45 days
Application
Blanking Dies, Forming Dies, Coining Dies, Slitting Cutters, Heading Tools, Long Punches, Forming Rolls, Edging Rolls, Master Tools, Beading Rolls, Intricate Punches, Extrusion Dies, Drawing Dies, Lamination Dies, Thread Rolling Dies, Shear Blades, Burnishing Tools, Gauges, Knurls, Wear Parts.
D2 Ssteel Heating Treatment
ASTM D2 steels alloy should be preheated very slowly to 815°C (1500°F) and then temperature can be increased to 1010oC (1850°F). They are then held at 1010oC (1850°F) for 20 to 45 minutes and air cooled (air quenched).
Annealing
Annealing of D2 tool steels material should be done at 871 to 898°C (1600 to 1650°F) followed by slow furnace cooling at 4.4°C (40°F) per hour or less.after which cooling rate may be increased. Suitable precautions must be taken to prevent excessive carburization or decarburization.
Stress Relieving
When desirable to relieve the strains of machining, heat D2 grade steel slowly to 1050°-1250°F, allow to equalize, and then cool in still air (Strain Relieving).
Preheat Prior To Hardening
Preheat slowly to 1350°-1450°F and hold at this temperature until grade steel D2 material is uniformly heated.
Hardening
After thorough preheating, heat to 1800°-1850°F. Hold the work piece at the hardening temperature until it is completely and uniformly heated.
Quenching
AISI D2 steel tool material is an air hardening steel and will develop hardness on cooling in still air. To avoid scaling and prevent decarburization of the work piece surface, controlled atmosphere or vacuum furnaces are recommended. If these furnaces are not available, pack hardening, salt baths or wrapping the piece in stainless steel foil will provide some degree of surface protection in the hardening process. Parts should be allowed to cool to 150F, or to where they can be held in the bare hand, and then temper immediately.
Tempering
The tempering temperature on material D2 steel may be varied according to the desired hardness. D2 steels can be tempered at 204°C (400°F) for achieving Rockwell C hardness of 61 and at 537°C (1000°F) for a Rockwell C hardness of 54.
Delivery condition
(1) For hot forged or hot rolled bar, usually the delivery condition is hot forged or rolled, annealed, rough turned.
(2) For hot forged plate, usually the delivery condition is hot forged, annealed, milled surface.
(3) For hot rolled plate, usually the delivery condition is hot rolled, annealed, black surface.