SKD61 Tool Steel Description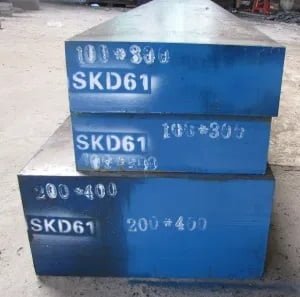 Equivalent Grades: GB 4Cr5MoSiV1, JIS SKD61, ASTM H13, DIN X40CrMoV5-1.
SKD61 is the tool steel, mold steel, and middle carbon steel possessing high hardness and wear resistance after heat treatment. It also has the good performance of hardenability and thermal fatigue stability.
SKD61 not only supports huge mechanical stress, but also thermal stress during working repeatedly. It is widely used to produce the cutting tools (drilling cutter, circular cutter, scissor, etc.), cold/heat work dies and measuring implements and further to manufacture the pistons, valves, valve seats of fuel pump of diesel engine, and ejector sleeves, punching machine, and other tools which work in high temperature condition.
SKD61 Mold Steel Introduce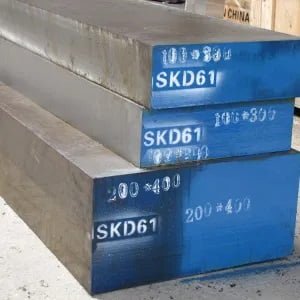 (1) SKD61 Tool Steel is a Japanese brand of hot work alloy steel, corresponding to the Chinese brand (GB/T 1299-2000) is 4Cr5MoSiV1, is the most widely used hot work alloy steel, SKD61 corresponding to the American standard is H13, South Korea is STD61.
(2) SKD61 steel is a medium containing silicon, chromium, molybdenum and vanadium alloy hot-work alloy steel after quenching and tempering treatment have organization, fine, moderate grain martensite structure, there are a tiny carbon basically, has the good comprehensive mechanical properties, and hardenability can good, is suitable for manufacturing of large size, complicated shape mold.
(3) SKD61 Steel supplier wholesalers and stocker. Lion Metal supply in (SKD61) round bar, plate, steel flat bar, square bar.
(4) SKD61 is a high chromium alloy tool steel with high hardness and wear resistance after heat treatment and hardenability. It has good dimensional stability and hot hardness. it is suitable for producing high precision long life hot work die mould.
Related Specifications JIS G 4404-2000
Chemical Composition
| | | | | | |
| --- | --- | --- | --- | --- | --- |
| C(%) | 0.35~0.42 | Si(%) | 0.80~1.20 | Mn(%) | 0.25~0.50 |
| P(%) | ≤0.030 | S(%) | ≤0.030 | Cr(%) | 4.80~5.50 |
| Mo(%) | 1.00~1.50 | V(%) | 0.80~1.15 | | |
SKD61 steel equivalent hot work alloy tool steel
| | | | | | | | | | | |
| --- | --- | --- | --- | --- | --- | --- | --- | --- | --- | --- |
| USA | Germany | China | Japan | France | England | Italy | Poland | ISO | Austria | Sweden |
| ASTM/AISI/SAE/UNS | DIN,WNr | GB | JIS | AFNOR | BS | UNI | PN | ISO | ONORM | SS |
| H13 / T20813 | X40CrMoV5-1/ 1.2344 | 4Cr5MoSiV1 | SKD61 | X40CrMoV5/Z40CDV5 | BH13 | X40CRMOV511KU | | 40CrMoV5 | | 2242 |
Form of Supply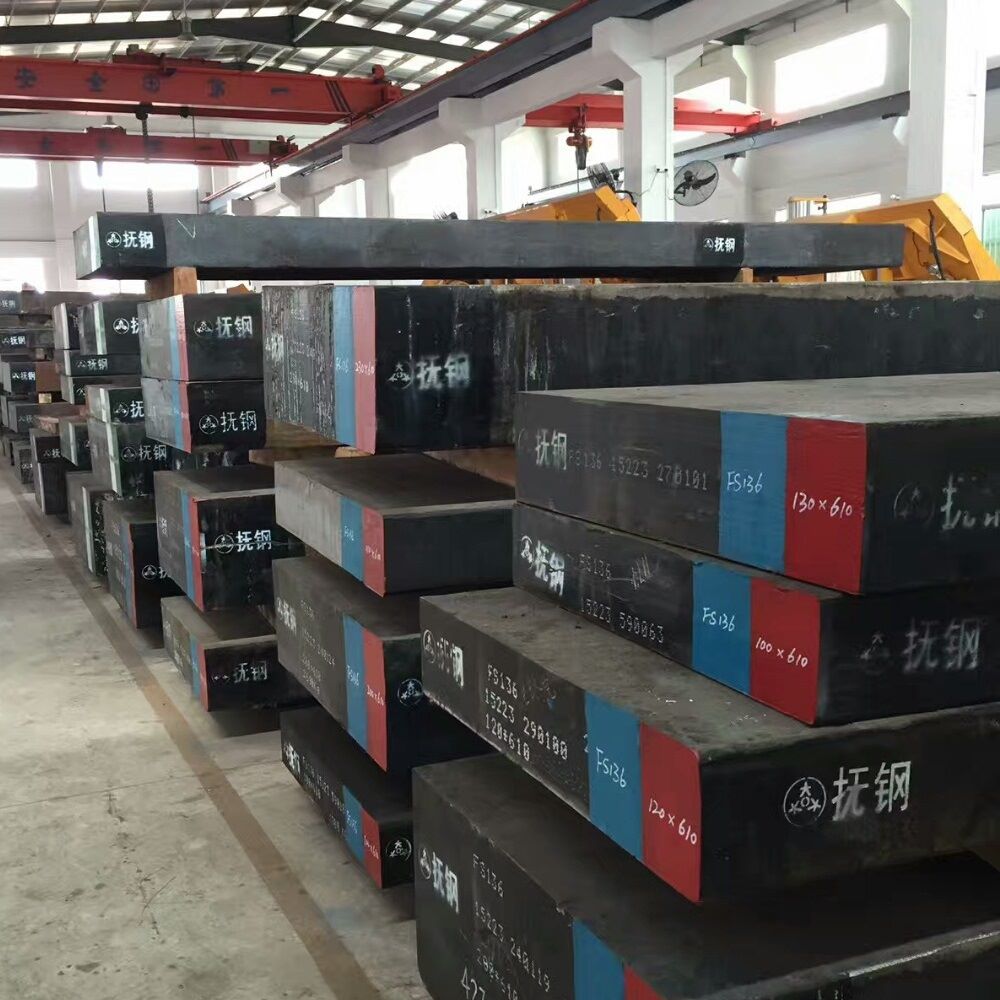 SKD61 tool steel, we can supply the round bar, flat bar, plate and square block. Diameters can be sawn to your required lengths as one offs or multiple cut pieces. Rectangular pieces can be sawn from flat bar or plate to your specific sizes. Ground tool steel bar can be supplied, providing a quality precision finished bar to tight tolerances
Applications
SKD61 Tool Steel is found in different types of die casting dies for aluminium, magnesium and zinc, extrusion dies for aluminium and brass, liners, mandrels, pressure pads, followers, bolsters, die cases, die holders and adaptor rings for copper and brass extrusion. SKD61 is used to hot stamping and press forge dies, split hot heading dies, gripper dies, hot punching, piercing and trimming tools. And the SKD61 tool steel also applications include plastic moulds, shear blades for hot work and hot swaging dies.
Forging
For forging SKD61 tool steel, first slowly Preheat to 750°C(1382°F), soak enough time, then rapidly heat to 1050-1100 °C(1922-2030°F). then start forging, ensure the forging temperature higher than 850°C(1562°F). Cool SKD61 tool steel must be slowly after H13 steel forging finished.
Annealing
Heat to 840-860°C(1544-1580°F), Soak thoroughly before furnace cool at a maximum rate of 20°C(68°F) / hour, Cool down to 600°C (1112°F). Then cool in air.
Stress Relieving
Before make products, The Tool steel stress relieving is very necessary. When SKD61 tool steel is ground, heavily machined, cutting, milled, the relief of internal strains is necessary before hardening to minimise the possibility of distortion. for stress relieving, heat the SKD61 steel component to 700°C(1292°F) carefully, Get enough soaking period. Then cool in the furnace or cool in the air.
Hardening
first should preheat the SKD61 steel parts to 780-820°C(1436-1508°F), Soak enough time, ensure soak thoroughly. then rapidly heat to 1000-1030°C(1832-1886°F), soak about 30 mins. cool in air or oil.
Tempering
Heat the SKD61 tool steel parts to tempering temperature, soak enough time until to Soak thoroughly. The usual tempering temperature range is 400-650°C(752-1202°F), It depend on the tools hardness require and the operating temperature. SKD61 tempering data for your reference as below:
Nitriding
On some special tool require, the higher hardness is required. Nitriding the SKD61 steel can get a hard surface case. after Nitriding , the SKD61 hot work tool steel will have a resistant to wear and erosion surface. Typical Nitriding data for your reference as below:
| | | |
| --- | --- | --- |
| Temperature | Time | Approx. Depth of Case |
| 525°C | 10 hours | 0.125mm |
| 525°C | 20 hours | 0.180mm |
| 525°C | 40 hours | 0.250mm |
| 525°C | 60 hours | 0.300mm |
---
Heat Treatment
SKD61 heat treatment, including heat treat temperature, rate of heating, cooling and soaking times. they depend on the SKD61 tool steel parts size and shape and your local Climatic conditions. So if can, we advise you contact your heat treatment provider get full guidance on heat treatment.
---
Final Grinding of JIS SKD61 steel – Japanese hot work steel material standard
For get bright surface and precise dimension, If dry grinding, use a very soft wheel grinding is better.
Regular size and Tolerance of SKD61 Steel
Round bar: Diameter Ø 5mm – 3000mm
Plate: Thickness 5mm – 3000mm x Width 100mm – 3500mm
Flat bar, Square bar: Thick 5-500 x width 20-800 x Length
Hot Rolled round bar

Diameter
(mm)
Diameter Tolerance
(mm)
Diameter
(mm)
Diameter Tolerance
(mm)
6.4~15.8
-0.038~0.038
181~<206.2
0~1.6
15.8~<77.6
0~0.10
206.2~<257
0~2.4
77.6~<103
0~0.15
257~<307.7
0~3.2
103~<181
0~0.78
≥307.7
0~4.7

Hot Rolled steel plate

Thickness
(mm)
Thickness Tolerance
(mm)
Thickness
(mm)
Thickness Tolerance
(mm)
≤25.4
-0.41~0.79
>127~152
-1.60~2.39
>25.4~76
-0.79~1.19
>178~254
-1.98~3.18
>76~127
-1.19~1.60
>254~305
-2.39~3.96
Others have not specified size, pls contact our experienced sales team.
Tool steel round bar and flat sections can be cut to your required sizes.
Ground steel bar can also be supplied, providing a high quality tool steel precision ground tool steel bar to your required tolerances.
SKD61 Tool Steel is also available as Ground Flat Stock / Gauge Plate, in standard and nonstandard sizes.