D3 Cold Work Tool Steel Desctiption
D3 steel, American grade, high carbon, high chromium Lestenitic steel. It has high wear resistance, hardenability, hardenability, strength and toughness, thermal stability, compressive strength, micro deformation and excellent comprehensive performance, and has good machining and thermal oxidation resistance, and wide adaptability.
Cold working tool steels, including D2, D3, D4, D5, D7 steel, are high carbon, high chromium steel.
All Group D steels except D3 contain 1% Mo and are hardened by air.
D3 section steel is oil quenched steel; Although small portions can be quenched using true air after austenization. As a result, tools made of D3 steel tend to become brittle during the hardening process.
D2 section steel is the most commonly used steel in group D. The D3 steel has a carbon content of 1.5 to 2.35% and a chromium content of 12%.
AISI D3 steel introduction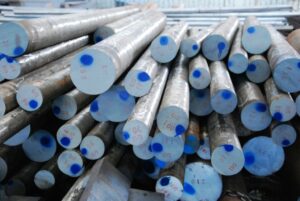 D3 cold work steelhas very high wear resistance against abrasive and adhesive wear due to the high volume of hard carbides in the steel matrix, medium toughness, dimensionally stable, high compressive strength, not secondary hardenable.ISI D3 cold work steel, also know as DIN 1.2080 (Werkstoff) and JIS SKD1, is a 12% chrome alloy steel.
Type AISI D3 cold works tool steel is oil-quenched; though small sections can be gas quenched after austenitization using vacuum. As a result, tools made with type D3 cold work tool steel tend to be brittle during hardening.
AISI D3 steel equivalent
| | | | | | |
| --- | --- | --- | --- | --- | --- |
| Country | China | Japan | Germany | USA | UK |
| Standard | GB/T 1299 | JIS G4404 | DIN EN ISO4957 | ASTM A681 | BS 4659 |
| Grade | Cr12 | SKD1 | 1.2080/X210Cr12 | D3 | |
AISI D3 steel chemical composition
Grade
C
Mn
P
S
Si
Cr
V
T
Mo
D3
2.00
2.35
0.10
0.60
0.03
0.03
0.10
0.60
11.00
13.50
. . .
1.10
. . .
1.00
. . .
. . .
1.2080/X210Cr12
1.90
2.20
0.20
0.60
0.10
0.60
11.00
13.00
–
–
–
–
–
–
SKD1
1.90
2.20
0.20
0.60
0.03
0.03
0.10
0.60
11.00
13.00
–
–
–
–
–
–
AISI D3 steel mechanical properties
The mechanical properties mainly include tensile strength, yield strength, elongation, area or reduction, hardness, impact value, non-metalic inclusion etc. Different heat treatment, the mechanical properties will be different, such as normalized, tempered, QT. If you want to know the properties, kindly contact the salesman.
AISI D3 steel overviews
Size
Round
Dia 6-1200mm
Plate/Flat/Block
Thickness
6mm-500mm
Width
20mm-1000mm
Process
EAF+LF+VD+Forged+Heat treatment(optional)
Heat treatment
Normalized ; Annealed ; Quenched ; Tempered
Surface condition
Black; Peeled; Polished; Machined; Grinded; Turned; Milled
Delivery condition
Forged; Hot rolled; Cold drawn
Test
Tensile strength, Yield strength, elongation, area of reduction, impact value, hardness, grain size, ultrasonic test, US inspection, magnetic particle testing, etc.
Payment terms
T/T;L/C;/Money gram/ Paypal
Trade terms
FOB; CIF; C&F; etc..
Packing
Standard Packages, or as Customers Request
Delivery time
15-45 days
Application
D3 is suitable for applications such as complex blanking and forming tools for long runs and for hard and abrasive materials.
Delivery condition
(1) For hot forged or hot rolled bar, usually the delivery condition is hot forged or rolled, annealed, rough turned.
(2) For hot forged plate, usually the delivery condition is hot forged, annealed, milled surface.
(3) For hot rolled plate, usually the delivery condition is hot rolled, annealed, black surface.
Heat treatment

Isothermal annealing:
Heat to 800°Cand hold at temperature for 1/2 h to 1 h;
Furnace cooling to 670°Cand hold at temperature for at least 10 hours;
Cool by 10°C/h to 630°C;
Cooling in air.
Maximum hardness:≤240 HB
Stress relieving:
To be carried out after maching before the final heat treatment.
Heat to 600-650°C, hold for 4-6 hours;
Cooling in furnace to 300-350°C;
Cooling in air.
Hardening:
Initial preheating to 350-450°C;
Second preheating to 650-750°C;
Heat to hardening temperature 860-890°Cand hold at temperature;
Cooling in hot oil (40-60°C); oil quenched hardness: 54-59HRC;
Tempering:
Tempering must be carried out within one hour from hardening(warm part) in the range 550-630°Cfor 4-6 hours according to hardness required, the dimensions of the parts and operating conditions.
Typical Application Examples
Mainly used as a silicon steel sheet punching die, used for high wear resistance, simple shape of the stretching and punching die under the condition of small dynamic load.

used in the manufacturing of bending die requirements of high wear resistance, complex shape of the punch, die, insert, punch, die recommendations, hardness 60 ~ 64HCR.

Used for the manufacture of drawdie wear resistant die, recommended hardness 62 ~ 64HCR.

When used for punch of cold extrusion die of aluminum parts, the recommended hardness is 60 ~ 62HCR.

Used for bending elastic steel plate with carbon content of 0.65% ~ 0.80%, hardness of 60 ~ 62HRC.

Can be used for blanking die, punch, roller, scissors, cold pier die, clay die.

Can be used for thermosetting plastic molding die.
Similar material recommendation: Cr12MoV D2