DILLIDUR 450 Wear-Resistant Steel Plate
DILLIDUR 450 is a wear resistant steel with an average hardness of 450 HBW in delivery condition ex works. Its mechanical properties are obtained by quenching.
DILLIDUR 450 is preferentially used by the customers where elevated resistance to wear is required together with good workability and especially good weldability.
Examples of application: earth moving and loading machines, dredgers, skip cars, conveying plants, trucks, cutting edges, knives and breakers, waste elimination and recycling plants.
Dillidur 450 Wear-Resistant Steel Plate
Dillidur 450 is a wear-resistant steel plate with a nominal hardness of 450 HBW in the delivery state.
Recommended for applications in high-wear environments that require materials with excellent machinability, especially excellent welding performance.
Application examples: earth-moving machinery, loading machinery, dredgers, dump trucks, conveying equipment, dump trucks, blades, cut-off crushers, waste treatment and recycling equipment, etc.
Dillidur 450 product description

Supply size
According to the supply outline, DILLIDUR 450 is available in thicknesses from 8mm (1/3 inch) 2 to 100mm (4 inches) 2 , other size requirements can be discussed separately.
Dillidur 450 Chemical composition:
Based on smelting analysis, the following limit values (%) are applicable to each component
| | | | | |
| --- | --- | --- | --- | --- |
| C | Si | Mn | P | S |
| ≤0.25 | ≤0.70 | ≤1.60 | ≤0.025 | ≤0.010 |
Depending on the thickness, one or more of the following alloying elements will be added:
| | | | | | | |
| --- | --- | --- | --- | --- | --- | --- |
| Mo | Ni | Cu | Cr | V | Nb | B |
| ≤0.50 | ≤0.80 | ≤0.30 | ≤1.50 | ≤0.08 | ≤0.05 | ≤0.005 |
The molten steel is fully sedated and processed for fine graining.
Carbon equivalent reference value:
| | | | |
| --- | --- | --- | --- |
| Steel plate thickness [mm] | 10 | 40 | 80 |
| CEV a | 0.46 | 0.55 | 0.69 |
| CET b | 0.34 | 0.36 | 0.39 |
a CEV =C+Mn/6+(Cr+Mo+V)/5+(Ni+Cu)/15
b CET =C+(Mn+Mo)/10+(Cr+Cu)/20+Ni/40
1 The content of this information is a product description, and may be updated from time to time. http://www.dillinger.de
2 Approximate conversions in brackets are for reference only.
Dillidur 450 Delivery status:
Temperature controlled water quenching
Mechanical properties in delivery state
Dillidur 450 Hardness
Surface Brinell hardness at room temperature: 420-480 HBW
Tensile test of transverse specimen at room temperature (reference value for 20mm thick steel plate)
Tensile strength: 1400 MPa (203 ksi) 3
Yield point: 950 MPa (138 ksi) 3
Elongation: 11% (L o = 5.65 √S o )
Although DILLIDUR has high tensile properties, it is not suitable for applications that emphasize safety. In this case, please choose high-strength steel DILLIMAX.
Longitudinal specimen V-notch Charpy impact test (reference value for 20mm thick steel plate)
Charpy impact energy: 35 J at -20°C (-4°F) 3
The test
surface Brinell hardness is tested every furnace and every 40 tons.
Steel plate mark
If there is no other agreement, the steel plate mark shall include at least the following content:
Grade (DILLIDUR 450)
Furnace number
Motherboard number and steel plate number
Steel mill sign
Inspector's signature
Dillidur 450 Processing performance
The whole set of processing technology and application technology adopted by the user is very important to the reliability of the products made from this material. It should be ensured that the design, construction and processing methods are suitable for this material, and meet the requirements of the latest processing technology and the purpose of the product that the processor must follow.
The user should select the material by himself, and fully consider the high strength and high hardness of the material, and follow the process recommendations that comply with EN 1011-2 (welding) and CEN/TR 10347 (forming), and comply with national regulations for safe production.
3 The almost converted values in parentheses are for reference only.
Cold forming
Although DILLIDUR 450 has high hardness and high strength, it can still be cold formed by bending. It should be noted that as the yield strength increases, the forming force required for the steel plate of the same thickness will also increase, and the resilience will also increase. In order to avoid the risk of edge cracking, the flame cut or sheared edge of the cold bending area should be polished.
In addition, it is also recommended to smoothly polish the outer edge of the bend that is subjected to tensile stress during bending.
During the processing, necessary safety measures must be taken to ensure that personnel are not exposed to the danger of flying off the workpiece during molding.
Cold forming can usually achieve the following parameters without surface defects (t is the plate thickness):
| | | |
| --- | --- | --- |
| | Minimum bending radius | Minimum die opening width |
| Horizontal | 5t | 14t |
| Vertical | 6t | 16t |
The hardness of hot forming DILLIDUR 450 comes from the accelerated cooling of the austenitizing temperature. If the hardness does not decrease significantly after hot forming, it is possible to supplement the subsequent re-quenching treatment.
However, the hardness obtained after re-quenching will be different from the hardness tested when the steel plate leaves the factory. This is because the cooling efficiency of the quenching equipment in the processing plant is generally lower than that of the quenching equipment during the production of steel plates.
This material can be heated to about 200°C (390°F) (up to 250°C (482°F) in an instant) without a significant decrease in hardness.
Flame cutting and welding
Flame cutting should follow the following minimum preheating temperature: plate thickness 26mm and below, 50°C (122°F);
plate thickness 26~52mm and below, 100°C (212°F); plate thickness above 52mm , 125°C (257°F).
Manual arc welding should use alkaline coated electrodes with low residual moisture (if necessary, dry treatment should be carried out according to the requirements of the electrode manufacturer).
In addition, the following suggestions should also be considered:
When butt welding is performed, steel plates with a thickness of less than 15mm do not need to be preheated under favorable process conditions.
For more information on the preheating of DILLIDUR 450, please refer to the technical manual "DILLIDUR-Anti-wear concept". In any case, preheating above 200 °C (390 °F) must be avoided because it will cause the hardness to decrease (see the figure below).
Low yield strength welding consumables should be used for tack welding, root bead and filler bead. If the welding point needs to withstand wear, only use the wear-resistant welding material that can produce the matching hardness of the mother plate in the later welding pass.
The following figure shows the general change of hardness or strength with heat treatment temperature: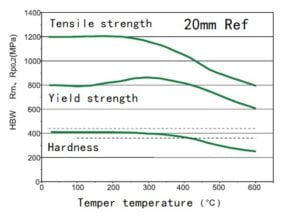 DILLIDUR 450 can use high-speed steel drills, especially cobalt alloy high-speed drills. If the appropriate drilling speed and drilling speed are used, the drill bit can achieve a satisfactory service life.
General delivery technical requirements
Unless otherwise agreed, the general delivery technology requires the use of EN 10021 standard.
Tolerance
Unless otherwise agreed, the tolerance requirements refer to EN 10029, and the thickness is applicable to A level.
Surface Quality
Unless otherwise agreed, refer to the EN 10163-2 standard and apply A2 level.
Total note
If there are other special requirements for materials that are not covered in this document due to the purpose of use or follow-up process reasons, they can be negotiated before ordering.
The content of this information is a product description and may be updated from time to time.
For more detailed information on the application and processing of DILLIDUR 450, please refer to the technical manual "DILLIDUR-Anti-wear concept".