S355M Description
Grade :
S355M
Number:
1.8823
Classification:
Alloy special structural steel
Standard:

EN 10025-4: 2004 Hot rolled products of structural steels. Technical delivery conditions for thermomechanical rolled weldable fine grain structural steels
EN 10113-3: 1993 Hot-rolled products in weldable fine grain structural steels. Delivery conditions for thermomechanical rolled steels
Equivalent grades of steel S355M (1.8823)
Warning! Only for reference
EU
EN
USA
–
Germany
DIN,WNr
France
AFNOR
England
BS
European old
EN
Italy
UNI
Sweden
SS
S355M
S355M Overview
Structural S355M plate is one steel grade in steel standard en 10025-4.
Comparing with steel plate S275M, S355M steel plate owned a higher steel strength including its yield strength and tensile strength.
The minimum yield point of S355M steel plates is 355 Mpa,and tensile strength within 470-630 Mpa.
For chemical composition,S355M low alloy steel plates contains a higher V and Ni than steel plate S275M when rolling.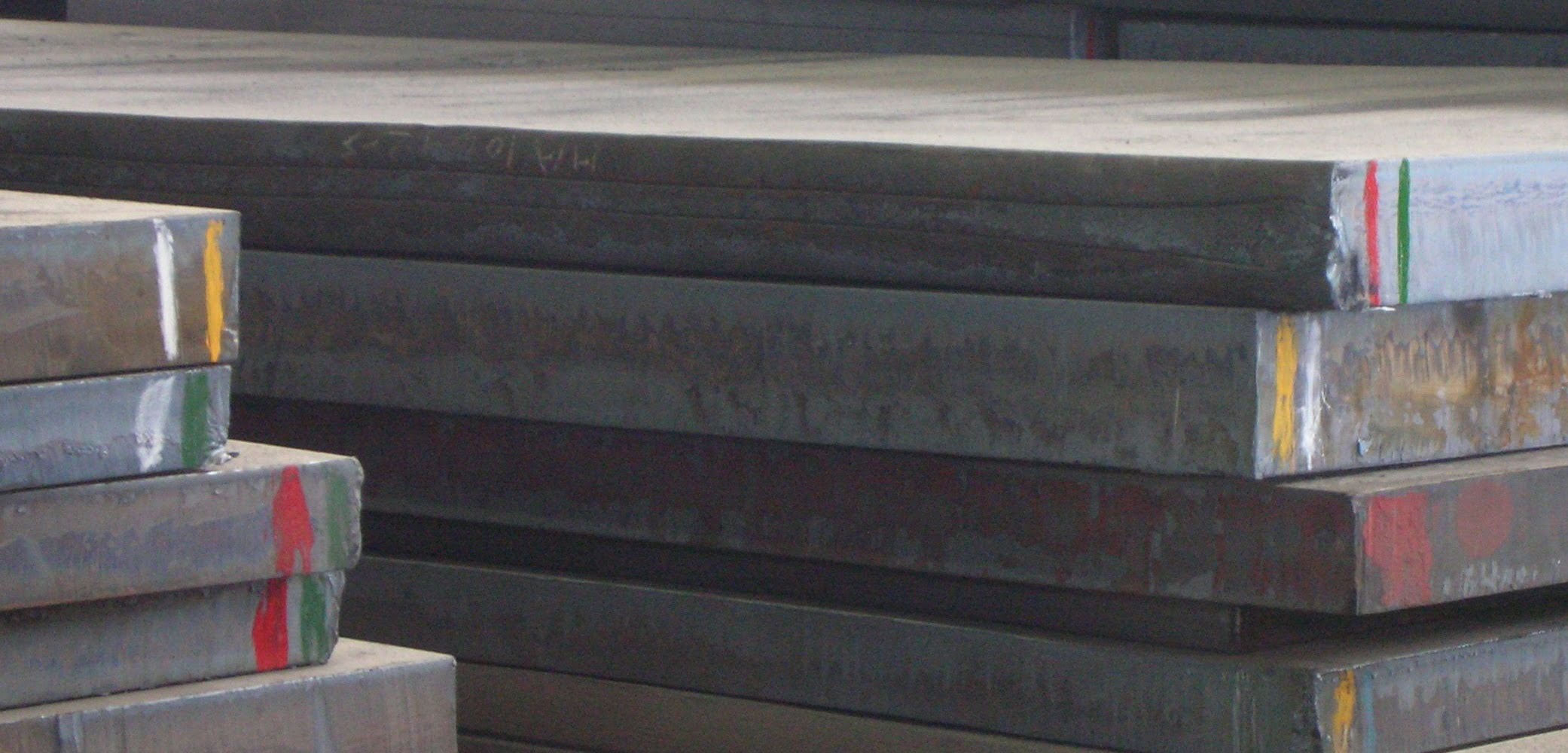 S355M Full Data

Technical Requirements & Additional Services:
Low temperature impacting test
Rolling under standard NACE MR-0175 (HIC+SSCC)
Ultrasonic test under EN 10160,ASTM A435,A577,A578
Issued Orginal Mill test certificate under EN 10204 FORMAT 3.1/3.2
Shot blasting and Painting,Cutting and welding as per end user's demands
Techicals
Mechnical property for S355M steel plate:
Thickness (mm)
S355M
≤ 16
> 16 ≤ 40
> 40 ≤ 63
> 63 ≤ 80
> 80 ≤ 100
> 100
Yield strength (≥Mpa)
355
345
335
325
325
320
≤ 40
> 40 ≤ 63
> 63 ≤ 80
> 80 ≤ 100
> 100
Tensile strength (Mpa)
470-630
450-610
440-600
440-600
430-590
Chemical composition for S355M steel plate (Heat Analysis Max%)
S355M NOTE:
Our alloy EN10025-4 S355M steel price products have complete specifications, reasonable prices and reliable quality. While supplying steel plates in stock, it can also directly place orders with steel mills according to customer needs, which can be cut for retail.
Our company has established a fast logistics distribution system (delivery in time) and a sound financial system, and strive to provide you with faster, more worry-free and more valuable services!
Heat treatment process: heat treatment refers to a kind of process operation in which the metal or alloy can change the internal structure through certain heating, heat preservation and cooling methods in the solid range to obtain the required performance.
EN10025-4 S355M steel price Heat treatment process refers to the ability to change the microstructure and properties of EN10025-4 S355M steel price after heat treatment, including hardenability, hardenability, temper brittleness, etc.
The main reference for structural design of steel structure engineering is the static and dynamic characteristics of the steel used under various actions, such as elasticity, plasticity, strength, toughness, fatigue and other mechanical properties. Therefore, the EN10025-4 S355M steel price and so on steel used in the construction of steel structure engineering will limit its strength, plasticity, impact toughness and weldability. Steel structure engineering requires high tensile strength and yield point of steel. High yield point can reduce the cross-section of the component, so as to reduce the weight, save steel and reduce the cost. High tensile strength can increase the safety of the structure.