42CrMo Alloy Steel
42CrMo steel belongs to alloy structural steel in terms of material classification. It has good mechanical properties and workability. It is widely used. There are mainly two types of materials, plate and round bar. Its comprehensive performance is better than 40cr, which has been recognized by the industry.
Chinese name: 42 chromium molybdenum
Foreign name: 42CrMo
Alias: 42CrMo4
Executive standard: National standard GB
Origin: China
Classification: Alloy structural steel
Level: Premium product
Specification: Plate , round bar
42CrMo Overview
42CrMo steel belongs to ultra-high-strength steel , with high strength and toughness, good hardenability, no obvious temper brittleness, high fatigue limit and multiple impact resistance after quenching and tempering, and good low-temperature impact toughness. 42CrMo steel is suitable for manufacturing large and medium-sized plastic molds that require certain strength and toughness .
42CrMo Chemical Composition
Carbon C: 0.38~0.45%
Silicon Si: 0.17~0.37%
Manganese Mn: 0.50~0.80%
Sulfur S: allowable residual content ≤0.035%
Phosphorus P: allowable residual content ≤0.035%
Chromium Cr: 0.90~1.20%
Nickel Ni: allowable residual content ≤0.30%
Copper Cu: allowable residual content ≤0.30%
Molybdenum Mo: 0.15~0.25%
Hardness: Annealed, 147~241HB, 42CrMo
Mechanical properties of 42CrMo:
Tensile strength σb (MPa): ≥1080(110)
Yield strength σs (MPa): ≥930(95)
Elongation δ5 (%): ≥12
Reduction of area ψ (%): ≥45
Impact energy Akv (J): ≥63
Impact toughness value αkv (J/cm2): ≥78(8)
Hardness: ≤217HB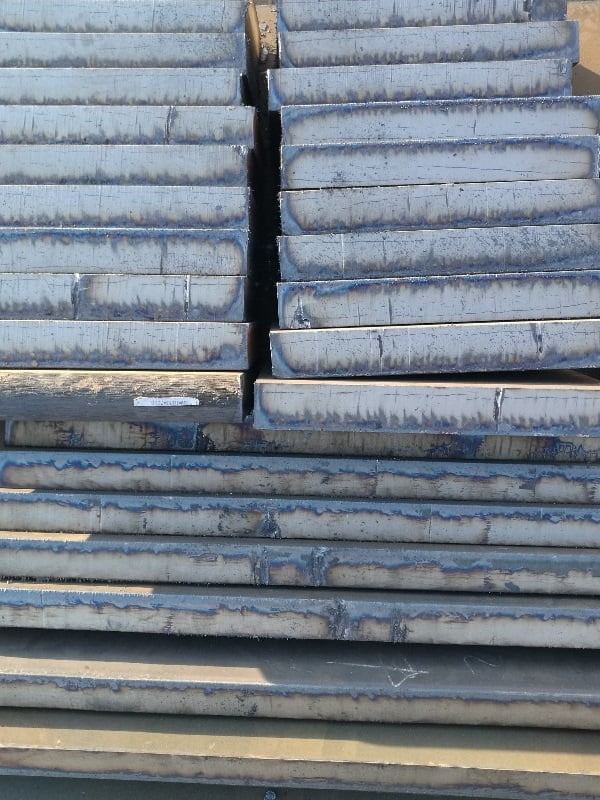 In order to increase the mold life to more than 800,000 mold times, the hardening method of quenching and low temperature tempering can be implemented on the pre-hardened steel. When quenching, preheat at 500-600°C for 2-4 hours, and then keep it at 850-880°C for a certain period of time (at least 2 hours), then put it in oil and cool to 50-100°C and air cooling, the hardness can reach 50 after quench -52HRC, in order to prevent cracking, 200°C low temperature tempering treatment should be carried out immediately. After tempering, the hardness can be maintained above 48HRC.
Salt bath vanadium infiltration treatment
The neutral salt bath vanadium treatment process of 42CrMo steel, and the carbide layer can be obtained by the neutral salt bath vanadium treatment of 42CrMo steel.
1. Carbon vanadium compound, the infiltration layer has uniform structure, good continuity and compactness, uniform thickness, compact structure, high microhardness and high wear resistance, surface hardness, wear resistance and resistance Performance such as adhesion is greatly improved.
2. The solubility of VC in austenite is higher than that in the ferrite body. As the temperature decreases, VC precipitates from the ferrite body, strengthening the alloy and refining the grains, and the compound layer shows higher hardness .
42CrMo steel belongs to high carbon and high chromium ledeburite steel, with a high content of carbides, accounting for about 20%, and it is often unevenly distributed in bands or nets, with serious segregation, and it is difficult for conventional heat treatment to change the situation of carbide segregation. It seriously affected the mechanical properties of steel and the service life of the mold. The shape and size of carbides also have a great impact on the performance of steel, especially the large-shaped sharp-angled carbides have a relatively large splitting effect on the steel matrix, and they often become the source of fatigue fracture. For this reason, the raw material rolled steel must be processed. The forging is changed to fully crush the eutectic carbides to make them small and uniformly distributed. The fiber structure is distributed around the cavity or non-directionally, thereby improving the transverse mechanical properties of the steel.
During forging, the billet is upset and drawn several times from different directions, and the "two light and one heavy" method is used for forging, that is, the billet should be lightly hit at the beginning of forging to prevent breakage. It can be hit hard at the intermediate temperature of 980 to 1020°C In order to ensure the crushing of carbides, 42CrMo steel has not been forged, it adopts solid solution double refinement treatment, that is, two-stage preheating at about 500°C and 800°C, solution treatment at 1100~1150°C, quenching into hot oil or austempering , High-temperature tempering at 750°C, heating and oil cooling at 960°C after machining, and final heat treatment, which can also refine carbide, rounded edges, and refined grains.
42CrMo Tempering
Recommended tempering specification for 42CrMo steel
42CrMo steel

Program

Quenching temperature/°C

Temper

Use

Heating temperature/°C

Medium

Hardness HRC

(1)

(2)

(3)

1020~1040

Stress relief

Remove stress and reduce hardness

Remove stress and reduce hardness

150~170

200~275

400~425

Oil or nitrate

—

—

61~63

57~59

55~57

(4)

(5)

(6)

1115~1130

Removal of stress and formation of secondary hardening

Removal of stress and formation of secondary hardening

Removal of stress and formation of secondary hardening

510~520°C multiple tempering

-78°C cold treatment

Temper at 510~520°C once

-78°C cold treatment plus 510~520°C tempering once, then -78°C cold treatment

—

—

—

60~61

60~61

61~6
42CrMo Quenching
42CrMo Steel

Program

First preheating/°C

Second preheating/°C

Quenching temperature/°C

cool down

Cool in the medium

Medium temperature/°C

medium

hardness

(HRC)

(1)

(2)

(3)

(4)

(5)

550~660

840~860

950~1000

1020~1040

1020~1040

1115~1130

1115~1130

oil

oil

Molten Nitrate

oil

Molten Nitrate

20~60

20~60

400~550

20~60

400~450

To room temperature

To oil temperature

5~10min

To oil temperature

5~10min

Air cooling

Air cooling

Air cooling

Air cooling

Air cooling

58~62

62~63

62~63

42~50

42~50
Corresponding Grade
Russia ГOCT 38XM,
American AISI 4140/4142,
British BS 708M40/708A42/709M40,
French NF 40CD4/42CD4,
German DIN 41CrMo4/42CrMo4,
Japan JIS SCM4,
International ISO 683/1 3
Quenching specification
General quenching and tempering specifications: quenching temperature 1000~1050°C, quenching oil or quenching gas, hardness ≥60HRC; tempering temperature 160~180°C, tempering time 2h, or tempering temperature 325~375°C, tempering times 2 ~3 times.
Physical properties
Critical point temperature (approximate value): Ac1=730°C, Ac3=800°C, Ms=310°C.
Linear expansion coefficient: temperature 20~100°C/20~200°C/20~300°C/20~400°C/20~500°C/20~600°C,
Linear expansion coefficient: 11.1×10K/12.1×10K/12.9×10K/13.5×10K/13.9×10K14.1×10K.
Elastic modulus: temperature 20°C/300°C/400°C/500°C/600°C,
Elastic modulus 210000MPa/185000MPa/ 175000MPa/165000MPa/15500oMPa
Process Specification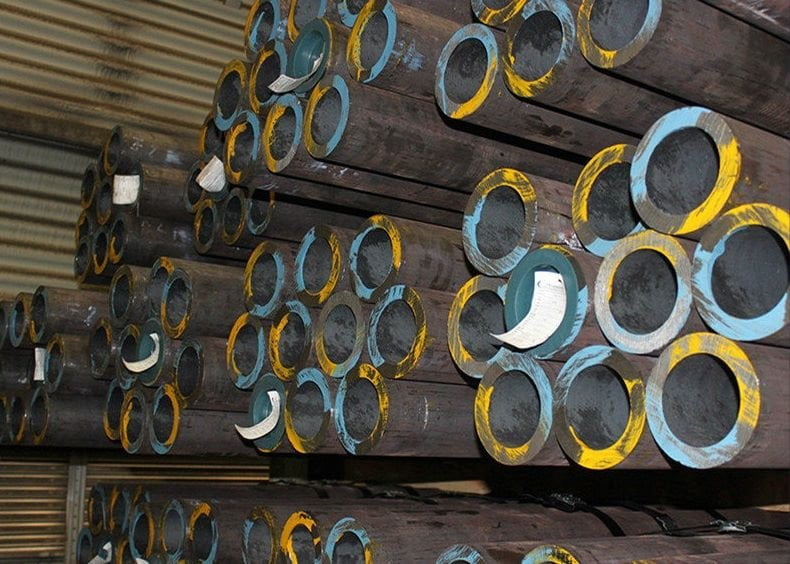 Hot working specification
The heating temperature is 1150 ~1200°C, the starting temperature is 1130 ~1180°C, and the ending temperature is> 850°C, when φ> 50mm, slow cooling.
Normalizing norms
The normalizing temperature is 850~900°C, and the furnace is air-cooled.
High temperature tempering specification
The tempering temperature is 680~700°C, and the furnace is air-cooled.
Quenching and tempering specifications
Preheating temperature is 680~700°C, quenching temperature is 840~880°C, oil cooling, tempering temperature is 580°C, water cooling or oil cooling, hardness ≤217HBW.
Specification for sub-temperature quenching strengthening and toughening treatment
Quenching temperature 900°C, tempering temperature 560°C, hardness (37±1) HRC
Specification for induction hardening and tempering
The quenching temperature is 900°C, the tempering temperature is 150~180°C, and the hardness is 54~60HRC.
Typical Application Examples