Dillidur 400 Wear Resistant Steel Plate Introduction
Dillidur 400 is an ex-factory wear resistant steel plate with nominal hardness up to 400 HBW.
The Dillidur 400 is recommended for use in high wear environments where good machinability, especially good weldability, is required.
Application examples: earthmoving machinery, loading machinery, dredger, overturning miner, conveying equipment, dump truck, blade, cutting crusher, waste treatment and recovery equipment, etc.
DILLIDUR 400 Description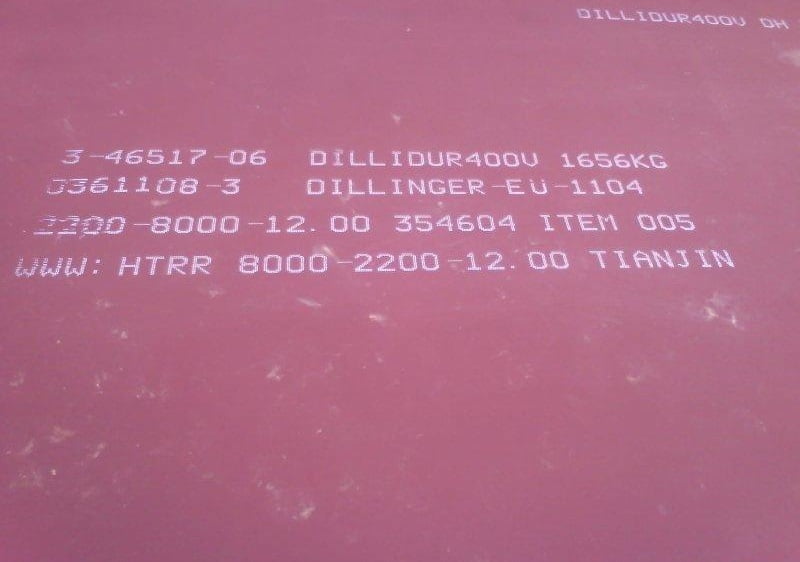 DILLIDUR 400 V is a wear resistant steel with an average hardness of 400 HBW in delivery condition ex works. Its mechanical properties are achieved by quenching.
DILLIDUR 400 V is preferentially used by the customers where elevated resistance to wear is required together with good workability and especially good weldability.
Examples of application: earth moving and loading machines, dredgers, skip cars, conveying plants, trucks, cutting edges, knives and breakers, waste elimination and recycling plants.
Product description
Dillidur 400 Range of application
DILLIDUR 400 V can be delivered in thicknesses from 6 mm (¼ in.) to 150 mm (6 in.), according to the dimensional program. Other dimensions may be possible on request.
Chemical composition
For the ladle analysis, the following limiting values in % are applicable:
| | | | | |
| --- | --- | --- | --- | --- |
| C | Si | Mn | P | S |
| ≤ 0.20 | ≤ 0.50 | ≤ 1.80 | ≤ 0.025 | ≤ 0.010 |
Depending on thickness, the following alloying elements are used singly or in combination for control of full hardening:
| | | | | | |
| --- | --- | --- | --- | --- | --- |
| Mo | Ni | Cr | V | Nb | B |
| ≤ 0.50 | ≤ 0.80 | ≤ 1.50 | ≤ 0.08 | ≤ 0.05 | ≤ 0.005 |
The steel is fully killed and fine-grain treated.
Indicative values for the carbon equivalent:
| | | | | | |
| --- | --- | --- | --- | --- | --- |
| Plate thickness [mm] | 10 | 25 | 40 | 80 | 120 |
| CEV 1) | 0.37 | 0.46 | 0.51 | 0.61 | 0.64 |
| CET 2) | 0.28 | 0.31 | 0.33 | 0.35 | 0.36 |
Delivery condition
Controlled water quenched.
1) CEV = C + Mn/6 + (Cr + Mo + V)/5 + (Ni + Cu)/15
2) CET = C + (Mn + Mo)/10 + (Cr + Cu)/20 + Ni/40
Mechanical properties in the delivery condition
Hardness
Hardness at room temperature: 370 – 430 HBW
Tensile testing on transverse specimens at room temperature (indicative values for 20 mm (0.8 in.) plate thickness)
Tensile strength 1200 MPa (175 ksi)
Yield point 800 MPa (116 ksi)
Elongation 12 % (lo = 5.65√So)
In spite of their high tensile properties, DILLIDUR steels are not intended for safety relevant components. For this purpose high strength steels DILLIMAX are available.
Charpy-V impact test on longitudinal specimens (indicative values for 20 mm (0.8 in.) plate thickness)
Toughness 30 J at -40 °C (-40 °F)
Testing
Brinell surface hardness tested once per heat and 40 t.
Identification of plates
Unless otherwise agreed the marking is carried out via steel stamps with at least the following information:
steel grade (DILLIDUR 400 V)
heat number
number of mother plate and individual plate
the manufacturer's symbol
inspector's sign
Dillidur 400 Processing
The entire processing and application techniques are of fundamental importance to the reliability of the products made from this steel. The user should ensure that his design, construction and processing methods are aligned with the material, correspond to the state-of-the-art that the fabricator has to comply with and are suitable for the intended use. The customer is responsible for the selection of the material. The recommendations in accordance with EN 1011-2 (Welding) and CEN/TR 10347 (Forming) as well as recommendations regarding job safety in accordance with national rules should be observed while considering the higher strength and hardenability.
Dillidur 400 Cold forming
DILLIDUR 400 V can be cold formed by bending in spite of its high hardness and strength. It should be paid attention to the fact that with increasing yield strength, the required forces for the forming operation also grow, even if the plate thickness remains unchanged. The spring-back also increases. In order to avoid the risk of cracking from the edges, flame cut or sheared edges should be ground in the area that is to be cold formed. It is also advisable to round the plate edge slightly on the outside of the bend coming under tension stress during bending.
During the processing, the necessary safety measures have to be taken, so that nobody will be exposed to a danger by a possible fracture of the work piece during the forming process.
The following geometries can usually be achieved by cold forming without the formation of surface defects (where t is the plate thickness):
| | | |
| --- | --- | --- |
| | Minimum bending radius | Minimum die opening |
| Transverse direction | 3 t | 10 t |
| Longitudinal direction | 4 t | 12 t |
DILLIDUR 400 V obtains its hardness by accelerated cooling from the austenitizing temperature. After hot forming, the same hardness can only be obtained if the steel is quenched again after forming. It is to be expected that the hardness achieved through such a treatment differs from that measured in the delivery condition, because the cooling capacity available during plate manufacturing differs from that available at the fabricator's works.
The steel may be heated to about 250 °C (482 °F) without a substantial drop in hardness.
Dillidur 400 Flame cutting and welding
For flame cutting, the following minimum temperatures should be observed: 75 °C (170 °F) for plate thicknesses from 30 up to 50 mm, 100 °C (212 °F) for plate thicknesses from 50 up to 100 mm and 150 °C (302 °F) for thicker plates.
For manual arc welding, basic coated rods having a very low residual moisture should be used (if necessary, drying according to the instruction of the manufacturer should be carried out). Additionally the following recommendations are to be considered:
up to a thickness of 20 mm (0.8 in.) the steel can normally be butt welded without preheating.
For more information about preheating of DILLIDUR 400 V, please refer to our technical information "THE CONCEPT TO COMBAT WEAR AND TEAR – DILLIDUR". A preheating over 250 °C (482 °F) must however be avoided, because it could locally produce a hardness reduction in the base material (see diagram).
Weld metals with low yield strength are preferred for tack, root and filler passes. If welds are exposed to wear, only the final passes should be welded with consumables producing a hardness matching the parent plate.
Dillidur 400 Heat treatment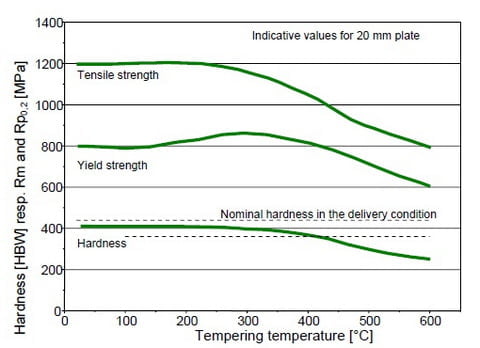 The following diagram shows the general changes in hardness or strength values in accordance with the heat treatment temperature:
Dillidur 400 Machining
DILLIDUR 400 V can be machined with HSS-drills and especially with HSS-Co-alloyed drills with a satisfactory service life if the drill advance and cutting speed are correspondingly accommodated.
General technical delivery requirements
Unless otherwise agreed, the general technical requirements in accordance with EN 10021 are applicable.
Tolerances
Unless otherwise agreed, the tolerances are in accordance with EN 10029, with class A for thickness.
Surface quality
Unless otherwise agreed, the provisions in accordance with EN 10163-2, class A2 are applicable.
General note
If particular requirements are demanded and not covered in this data sheet, please contact us with the specifications for our review and agreement prior to ordering. The information in this data sheet is a product description. This data sheet is updated at occasion demands.
For more information about application and processing of DILLIDUR 400 V, please refer to our technical information "THE CONCEPT TO COMBAT WEAR AND TEAR – DILLIDUR".